---
Share Your Story
Money in politics affects each of us in different ways. Whether you are a small business owner who can't afford to compete with corporate lobbyists, a farmer concerned about climate change, or a parent who wants to take dangerous chemicals out of toys, you need your voice to be heard in Augusta and Washington. Share your story, and your reason for supporting Clean Elections! Write a letter to your local paper, or share on social media with the hashtag #CleanElectionSupporter. Make your voice heard.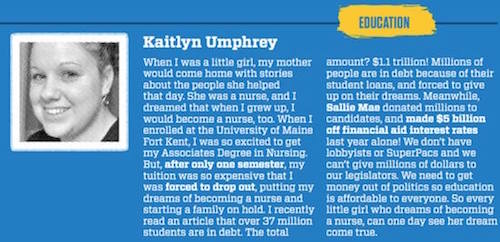 ---
Legislative Work
MCCE advocates in the legislature to protect and restore the Maine Clean Election Act and promote related campaign finance legislation.
Passing the Clean Elections Initiative with a double-digit margin was a big step towards a more accountable government. But our work isn't done. We need your help to ensure the Clean Elections Initiative is fully implemented, funded, and used by a growing number of candidates. Join the Rapid Response Team to help with:
Contacting your lawmakers around key bills
Writing letters to the editor
Encouraging candidates to use Clean Elections
To contact your local state elected officials and find out more about the legislature's work, visit the Maine State Legislature.
Check out MCCE's Testimony Archive additional testimony before the Joint Committee on Veterans and Legal Affairs on proposals related to the Maine Clean Elections Act and other campaign finance law.