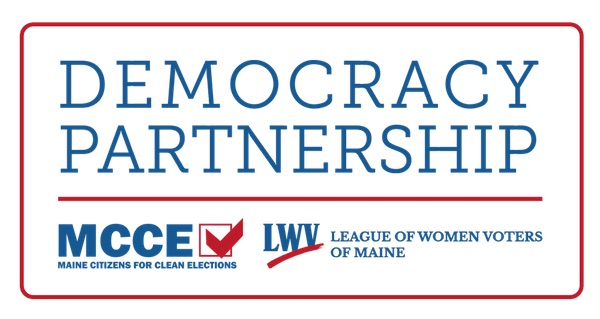 Joint Effort to Promote and Protect Democracy
The League of Women Voters of Maine (LWVME) and Maine Citizens for Clean Elections (MCCE) are both profoundly committed to building an empowered, engaged, and informed citizenry to meet the challenges of 21st century democracy. To that end, we are embarking on a close new relationship with the exciting promise of creating a powerful new center of gravity for efforts to improve the function of our democratic self-government at every level.
We join activists and reformers across many generations in pressing for the realization -- at long last -- of the revolutionary promise of our founding principles. We share a vision of public policy that fosters political equality and civic engagement to address the problems that confront our communities, our state, and our nation.
Over years of independent development and collaboration, our organizations have built strong brands, stellar reputations, and complementary strengths. Our Democracy Partnership will have the power to meaningfully address the deep crisis currently facing our democracy in a uniquely nonpartisan and sustainable joint effort.
More Powerful Together
Joining many (but not all) of our efforts, the Democracy Partnership will provide Maine with:
A trusted nonpartisan source of information about elections and public policy for voters and public officials across the political spectrum
A powerful advocate for policies that strengthen our democracy, including leadership on addressing the role of big money in politics.
A gathering place for people who want to engage more deeply with the political process to build their skills, enlarge their knowledge, and find fellow citizens to organize alongside.
A "democracy hub" providing capacity, infrastructure, and reputation that can be joined on specific issues by other organizations whose missions overlap.
Combining the professional staff of MCCE and its track record of legislative and ballot success, with the volunteer-driven, consensus-based, chapter model of the League, we will create a movement with true grassroots-based power and policy clout. Integrating our outreach and streamlining our operations will give the organizations greater external impact while continuing to promote and enlarge the valuable identities of each organization.
Read More:
Maine Citizens for Clean Elections and the League of Women Voters of Maine form new collaboration -- October 2017
Maine Citizens for Clean Elections and the League of Women Voters of Maine hire joint Executive Director -- December 2017