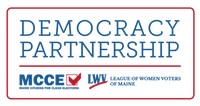 Maine Citizens for Clean Elections (MCCE) is a nonpartisan organization that works in the public interest to advocate for, increase public support for, defend and improve the Maine Clean Election Act and related campaign finance law.
In our Democracy Partnership with the League of Women Voters of Maine, we empower voters and expand access to democracy. We work to increase political equity through both our policy agenda and the grassroots organizing we use to advance those policies.
MCCE and LWVME leverage the commitment of our volunteer members with limited paid staff to carry out the work of the organization. A dedicated group of members agree to serve on MCCE's Board of Directors to ensure that MCCE's mission is served.
Anna Kellar, Executive Director (she/her)
Anna grew up in Maine, before earning a Bachelor of Arts degree in political science from Yale University and a Masters degree in conflict studies from the London School of Economics. Her experience with democracy and anti-corruption campaigns in Eastern Europe and Central Asia makes her all the more committed to preserving and strengthening civil society and grassroots democracy in Maine. She ran for the state legislature as a Clean Elections candidate in 2016. Anna started working at MCCE in 2014 as an organizer on the Clean Elections Initiative. In 2017, Anna was appointed as the first joint Executive Director for MCCE and the League of Women Voters of Maine.
Sarah Rawlings previously served as Southern Maine organizer in 2017. She received a Master's Degree in Public Policy and Management from the Muskie School of Public Service in 2010. Most recently, she was an organizer with the Maine Democratic Party, and previously worked for Mainers for Responsible Gun Ownership. Prior to her campaign work, Sarah was a research analyst in academia and the nonprofit sector, primarily working on matters related to education policy. Sarah supports MCCE's state and municipal advocacy and RCV public education, and manages the League of Women Voters of Maine's Easy to Read Voter Guide.
Lado Lodoka, Program Director (he/his)
Lado holds a BA in Political Science from USM and a Masters in Community Development Policy and Practice from UNH. Prior to joining MCCE, he worked for the Kansas Department for Children and Families as Regional Refugee Coordinator and Program Consultant for Employment Service Provider Agreement. Lado leads MCCE's classroom civics project, and voter engagement work in immigrant communities.
John Brautigam, Senior Advisor and Counsel (he/his)
John Brautigam is an attorney and consultant with over 25 years of experience in campaign finance and election law, public policy, advocacy, and legal representation. From 2004 to 2008 he served in the Maine legislature and was House Chairman of the Insurance and Financial Services Committee. Prior to his tenure in the legislature Mr. Brautigam served as Assistant Attorney General. He previously served as legal counsel successfully defending the constitutionality of the 1996 reforms to Maine campaign finance laws, including the Maine Clean Election Act. Mr. Brautigam holds a law degree from Stanford Law School where he was appointed Executive Editor of the Stanford Law Review. He earned a BA in Government from Wesleyan University and an MA in History from Trinity College.
Nadya Mullen, Operations Manager (she/her)
Nadya has spent the past 18 years living and working in the UK, primarily in higher and further education; most recently as Administrative Officer for the Faculty of Asian and Middle Eastern Studies at the University of Cambridge. Her background in not-for-profit administration and organisational transformation will serve her well at the Democracy Partnership. Nadya is a returning Maine native and is delighted to be home and to be able to actively support nonpartisan democracy efforts in Maine.
Lokotah was the Bangor canvass director for FairVote's Ranked Choice Voting education effort, and previously worked as a canvasser for MCCE. He has also been an organizer on political campaigns in Maine and New Hampshire. Lokotah works to expand MCCE organizing's in Bangor, Northern/Central Maine and tribal communities.
Dena was an external affairs professional working in New York City's public and nonprofit sectors before returning to her home state of Maine in 2018. With experience in strategic nonprofit marketing and communications, policy analysis, and project management, she looks forward to helping empower Maine voters and improving the state's democratic process.
Al brings four years of experience in mobilizing young people, beginning on the electoral campaign trail in New Hampshire. They returned to New England in 2018 after spending the last three years working on college campuses in San Diego building grassroots organizations. Al is looking forward to growing the organization efforts, capacity, and reach of Maine Citizens for Clean Elections.