Advocacy Day 2019
Advocacy Day is an annual opportunity for supporters of a fair, equitable, democratic process and accessible elections to advocate for these causes in Augusta. It is co-hosted by the League of Women Voters of Maine and Maine Citizens for Clean Elections.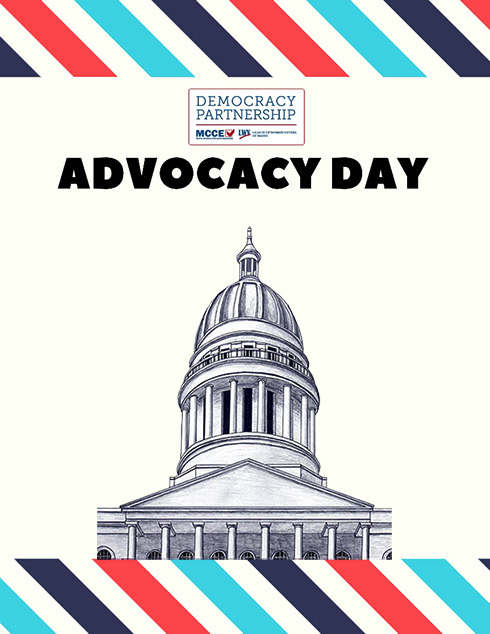 Advocacy Day will begin at 9:00 AM at the Maine State House Welcome Center. This event is free and open to the public.
You can learn more about our 2019 legislative agenda here.
From 2:00 PM to 3:30 PM, please join us for tea and cookies at the Blaine House along with a panel discussion on the struggle for suffrage in marginalized communities. Seating at this event is limited; to attend the afternoon panel, RSVPs are required.
Panelists:
Reverend Kenneth I. Lewis, Jr., Pastor at Green Memorial AME Zion Church
Maulian Dana, Tribal Ambassador at Penobscot Indian Nation
Anne Gass, Author and Women's Suffrage Historian
Learn about our 2019 advocacy priorities and legislative agenda by reviewing our latest Policy Briefing Webinar.
When
Feb 14th, 2019 9:00 AM through 3:30 PM
Location
210 State St
Maine State House
Augusta
ME
04330-6845