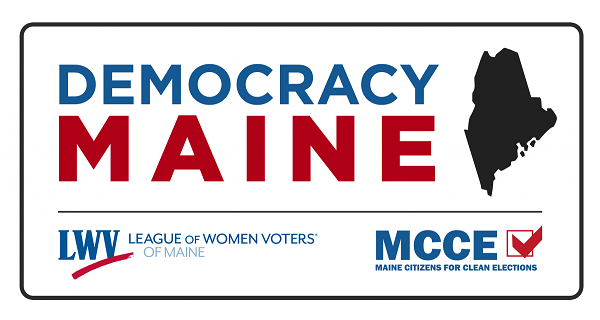 About Democracy Maine
Democracy Maine is a collaboration between two nonpartisan organizations - League of Women Voters of Maine and Maine Citizens for Clean Elections - that joined forces in 2018 to strengthen their advocacy and education efforts. As Democracy Maine, we work together and with other partners to make government more equitable, inclusive, and accessible by improving elections, protecting and engaging voters, and reducing the influence of private money in politics. Our current priority issues include voting rights, money in politics, ranked choice voting, and the national popular vote.
Advocacy Program Coordinator
Position Description
Democracy Maine is seeking an Advocacy Program Coordinator. They will work with professional and volunteer leadership to support and grow our mostly volunteer advocacy team, and develop strategic campaigns to win ambitious democracy reform at the state level.
Core Responsibilities
Work across multiple policy areas simultaneously to win legislative victories and build grassroots leadership and power. Policy areas include elections and voting; money in politics, and government ethics and accountability.
Develop campaign strategies to win legislative victories and accumulate grassroots power over time.
Implement Corporate Contribution Ban campaign plan
Work with Advocacy Team leaders to build volunteer leadership in our team collaborating on meeting management, goal-setting, volunteer orientation and leadership development goals, problem-solving and filling skills gaps, organizing internal resources and other staff support, evaluation.
Build strong relationships with allied organizations and community leaders
Represent Democracy Maine and our constituent organizations on advocacy coalitions
Ensure integration of diversity, equity and inclusion in all facets of projects and project teams.
Work closely with organizing team to connect project teams with external partners and potential volunteers.
Required Skills
Experience leading volunteer teams
Comfortable with a full range of advocacy and direct action tactics, including lobbying, testimony, constituent meetings, phone banks, letters, rallies, etc.
The demonstrated ability to connect with individuals with a broad range of skills, experience, and levels of confidence in leadership situations. Works well with diverse or marginalized populations; can bring in allies across diverse communities.
Facilitative leadership: constantly seeks to develop volunteer ownership and accountability for all aspects of projects
A community organizer's orientation to building power through growing the capacity and knowledge of everyday people.
Comfort working in a fluid, networked, team-based, non-hierarchical environment.
Demonstrated project management and planning skills: stays on top of multiple projects without dropping any balls, plans backwards and anticipates obstacles, identifies and involves stakeholders appropriately, uses resources wisely
The ideal candidate will also have
Prior knowledge of or experience in civic engagement and/or democracy reform.
Experience with legislative campaigns, especially in Maine
Strong policy analysis, research, and writing skills
Experience using VAN
Location, Compensation and Start Date
Our office is located in Portland. This is a full-time position with compensation based upon experience. Health, vision, dental, and earned time benefits are offered to all employees. We aim to have our Advocacy Program Coordinator start as soon as possible.
How to Apply
Please send a cover letter and resume by email to Democracy Maine Operations Director Nadya Mullen at nadya@democracymaine.org. Please use the subject line 'Advocacy Program Coordinator.'
Democracy Maine is an equal opportunity employer and encourages applicants of all backgrounds. We do not discriminate in employment against persons based on color, race, religion, age, ability, gender, familial status, sexual orientation, national origin, veteran or marital status. We are committed to the principle of equal employment opportunity for all employees and to providing employees with a work environment free of discrimination and harassment.