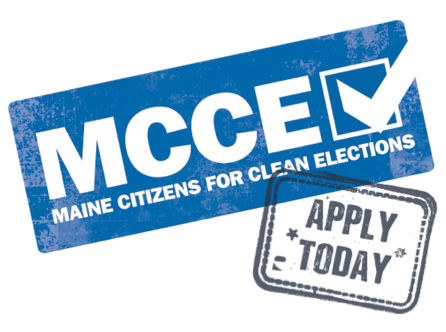 About Maine Citizens for Clean Elections
Maine Citizens for Clean Elections (MCCE) is a nonpartisan nonprofit organization working to ensure Maine's campaign finance laws, elections, and government serve the public interest, both in principle and in practice. We engage Maine people from across the political spectrum, using research, education, and outreach to further fairness, inclusion, and opportunity in our politics. We believe that a sound campaign finance system fosters broad civic engagement and offers people from all economic circumstances an opportunity to participate and be fully represented in our government. Such a system is a key factor in our ability to tackle Maine and the nation's most pressing problems and provide good government that is accountable to its citizens.
About Marion Holshouser
Marion Holshouser was a founder of MCCE and a passionate believer and a dynamic participant in the democratic political process. In Urbana, Illinois, she ran for office and was elected to the City Council and the office of City Treasurer. She served twice as a Carter delegate to the National Democratic Convention. She believed in the value of nonpartisan political work and was an active member of the League of Women Voters for most of her adult life. In "retirement" in Maine, she served on the League's state and local boards for many years, rising to president of both the state and Portland area organizations. She worked tirelessly on many League initiatives and received numerous awards for her contributions. Among her proudest accomplishments was spearheading the League of Women Voters' lead participation in Maine Voters for Clean Elections, the coalition that passed the Maine Clean Election Act by referendum in 1996 and later became MCCE. Marion's vision of an inclusive, participatory political system helped to shape the Maine Clean Election Act, and Maine people have benefited ever since its passage.
Position Description
MCCE is seeking interns to help advance our mission to create a government truly of, by, and for all people. Internships are created based on the interest of applicants and organizational needs. The primary focus areas include communications, community organizing and volunteer engagement, legal research, and/or grassroots fundraising. Interns will work with teams of volunteers on activities designed to strengthen the Maine Clean Election Act and other democracy-strengthening reforms through MCCE's education and advocacy outreach programs. MCCE has ambitious outreach plans in 2017-2018 including implementing new reforms to the Maine Clean Elections Act and educating Mainers about Ranked Choice Voting. This is a great opportunity to develop community organizing, communications and research skills in a winning, fast-paced, nonprofit organization. You will help advance social change in one of the most important issues facing our democracy today. Read testimonials from our former interns.
Activities include:
Active participation in state-level and national-level campaigns to advance campaign finance reforms.
Organizing outreach events such as films and workshops.
Reaching out to supporters to take action through phone calls, emails, and social media.
Completing a small-scale research project that fulfills both MCCE's organizational needs and the intern's interests.
Individual projects, including communications or legal research.
For Summer 2018 internships:
MCCE is seeking interns with experience and/or interest in one or more of the following areas:
Communications (including content production and social media)
Legal Research (law students only)
Community Organizing and Education
People driven to make social change!
Ideal candidates are:
Committed to reducing the role that money plays in our elections and government.
Outgoing, able to establish connections to new people, and strong communicators.
Organized, punctual, self-motivated, and able to be productive without constant direct supervision.
Committed to nonpartisan values.
Loyal team players who work in a highly collaborative, fast-paced environment.
Able to learn basic information quickly and stay on message.
Hours and Compensation
All internships are for college credit with flexible hours and include a modest stipend consistent with time committed.
Summer internships are full or part time (min 8 hours per week).
Students are encouraged to seek additional funding from their institution or external sources. MCCE staff will help with any necessary paperwork for students applying for grants or other forms of support.
To Apply:
Please send the following as attachments to Anna@MaineCleanElections.org:
Letter of interest no longer than one page. Please tell us why MCCE interests you, give us an example of an experience that formed your interest in social justice causes, and, based on the position description above, reasons why you would be a great fit to join our dynamic team. Please include the starting and ending dates you wish to intern with MCCE, including the total number of hours.
Resume including your contact information, a list of activities you have been involved with, and any relevant course work.
Names and contact information of two professional or academic references
Got questions? Give us a call at 207-831-6223 or email us at info@mainecleanelections.org.