Report #10: The First Look at 2014 Gubernatorial Fundraising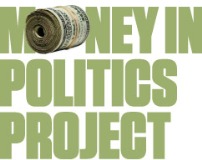 About the Series
The Money in Politics Project is a series of twelve reports about the role and effect of money on Maine politics. The reports combine a review of publicly available campaign finance data with on-the-ground analysis of how money influences Maine's elections, government, and public policy.
Maine Citizens for Clean Elections
launched this project because money in politics is an issue of vital concern to the people of Maine, one that goes to the heart of our democratic system.
Read other reports
Private Money from Wealthy Contributors Dominate the Campaign.
Download the full report: Letter-sized Tabloid-sized
The 2014 gubernatorial election is still 14 months away, but campaign fundraising has been in full swing since earlier this summer. Reports filed by the three major candidates as of July provide a preview of the coming campaign, which some observers predict will break all records for fundraising and spending in Maine candidate campaigns.
The most significant change visible in the 2014 campaign is that all gubernatorial candidates are engaged in fundraising from private individuals, corporations and political action committees. For the first time since the Maine Clean Election Act public funding option became available, no public funds are available for these candidates. In addition, new legislation allows private contributors to give up to $3,000 to gubernatorial candidates, fanning the flames of the private fundraising conflagration sweeping the state and the country.
While the public continues to demand measures to reduce the grip of private money on our democracy, gubernatorial candidates can no longer use the one solution that works in Maine – the Clean Election Act public funding option.
Whether Maine has lost this option forever, or whether this is a temporary change, remains to be seen. But the early reports of fundraising for the 2014 election show that big money is flooding in to fill the void. Anyone concerned about truly democratic elections in Maine should be deeply concerned.
Highlights
Paul LePage, Mike Michaud and Elliot Cutler have all begun fundraising in earnest. The July 2013 semi-annual reports detail over a million dollars raised well over a year before Election Day.
As of this point in the campaign cycle, total fundraising among gubernatorial candidates dwarfs that in either of the past two gubernatorial election cycles.
The source of funding for these candidates is not representative of Maine voters. The vast majority of funding comes in amounts that typical Maine families do not and could not contribute to a candidate.
Large contributions are dominating gubernatorial elections as never before. Contributors giving $250 or more account for the vast majority of the amount raised by all three major candidates.
Over one quarter of the funds raised to date come from out-of-state. This compares to approximately 10% of the funds raised in the 2010 gubernatorial election cycle. Continuing a pattern from the last cycle, Elliot Cutler raised more from out-of-state contributors than the other candidates.
Contributions from lobbyists tend to favor the party candidates over Cutler.
Read more in the full report: Letter-sized Tabloid-sized